Customer Testimonials - Territory Funerals
Territory Funerals is a locally owned and operated family business that provides funeral services to clients in Darwin, Palmerston and surrounding remote communities. Whether you've lost a parent, sibling, spouse, child or other relative, we are here to help you plan their funeral and memorial ceremonies in the most personal yet professional way possible.
Kind Words from Customers
Here are testimonials from some of our satisfied customers over the years, showcasing the superior funeral services we provide:
"Thank you so much to Rob and Michelle at Territory Funerals for helping to arrange mums funeral in August 2018 and then dads funeral yesterday. Nothing has been too much trouble for them and they ensured that in both occasions everything went off without a hitch. I would certainly recommend their services. And i agree with one of the other reviewers, Michelle gives the best hugs!"
"Thank you Robert and Michelle for your understanding and kindness at a sad time. It felt like you were holding our hands all the way and also still doing this. My family are so appreciative of your caring service. You were there if we needed you. I so highly recommend Territory Funerals."
"Amazing Territory business. Simple and professional with a lot of heart, willing to work outside of the square to give your loved one a special and personalised farewell. Genuine, caring people, highly recommended them."
"Robert and Territory Funerals were great to deal with right from when I made the first phone call. Talked us through the process of getting my brother in law back from Darwin to Victoria for the funeral and kept in contact constantly through what was a very difficult week. They worked in extremely well with our Victorian funeral director and also kept us updated with the ongoing formalities with coroners etc at that end. Could not recommend them more highly.

They also provided a very affordable price in comparison to the other options we were initially provided."
"Robert and Territory Funerals were exceptional as they organised a relative's funeral. Being based in Sydney we had to organise it remotely and nothing was too much trouble. We ended up with an unconventional "Territory-style" event which suited our loved one perfectly, and they accommodated every request, no matter how odd it seemed. We cannot thank your team enough for the dignity, efficiency and professionalism you offered us in a very difficult time. Would highly recommend Territory funerals!!"
"A big thank you to Robert and Territory Funerals for everything.Robert at Territory Funerals really did take care of all arrangements on our behalf during the loss of a family member, which turned out perfectly. I would highly recommend Territory Funerals; they really did exceed all expectations as a professional service, through their understanding and personal approach, which was fundamentally the main reason why we engaged with their services."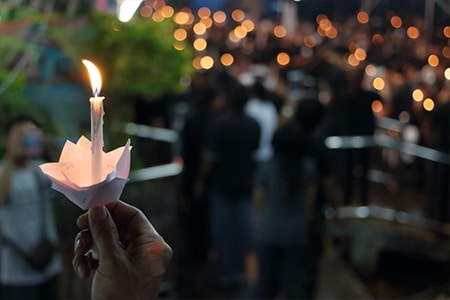 We have decades of experience in the funeral industry, which puts us in the ideal position to make sure that your loved one's funeral goes according to your expectations. We have helped countless families in the community with planning unique, memorable and fitting tributes for the relatives they have lost.

From obtaining the certification of death to arranging an appropriate burial location or cremation, and organising the floral arrangements for the service, Territory Funerals can do it all.